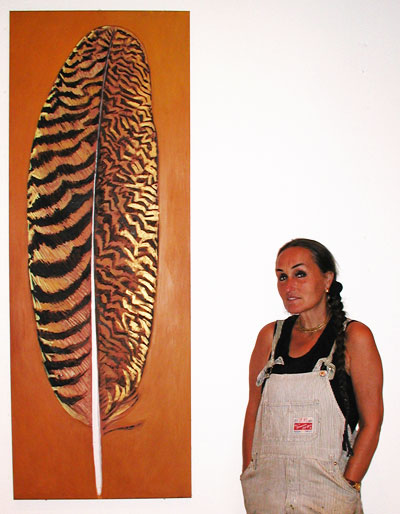 Maria Hillfon's work is based on intuition. There are many sides to her artistry and all of them are just as important to her. She describes them as male and female sides. The female sides are expressed in her flower paintings, decorated cupboards and lithographic work. The male side is expressed in her horizons where full colour fields are separated by a horizontal line. It is a meeting between the sky and the sea or the earth. These horizons appear both in her textiles and lithographic work.
To visit Maria and her husband at their farmhouse in Skåne is a remarkable experience. There is a peacefulness rarely experienced in today's society. They have deliberately searched for this peaceful environment and a simpler more natural life to be able to reach a state of full concentration.
---
Biography
1945
Born in Stockholm, Sweden.
1965-1971
Studied at The Royal University College of Fine Arts, Stockholm, Sweden.
---
Selected Exhibitions
2006
"Horizon", Landskrona Art Hall, Sweden
1997, 1989, 1987,1985, 1982, 1977, 1973, 1969
Dr Glas, Stockholm, Sweden
1981
"Textilkunst", Linz, Austria
1977
"Expressions Suedoises", Brussels, Belgium
1976
"Five temperaments" Swedish Textile Art, Mexico, Cuba, Canada
---
Selected Public Collections
(The National Swedish Museum of Fine Arts, Stockholm, Sweden*)
Gothenburg Museum of Art, Sweden
Nordenfjelske Museet Trondheim, Norway
*The pictures at the National Museum have been transferred to Moderna Museet, Stockholm.
---
Artist of the Quarter
The Process of Making a Lithograph
We followed the artist Maria Hillfon in the process of making a lithograph at Lindström´s printing-works in Solna.
The Process of Making a Lithograph
---
The content of this biography is updated on behalf of the artist.