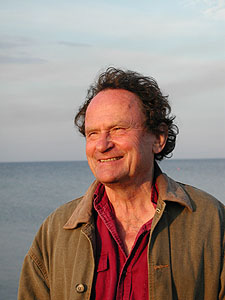 "Curt Asker has in unconventional ways reached a painting technique where the light, liberating simplicity arising is anything but easy: The unification of fine discernment and power is difficult to achieve."

Ulf Linde´s commentary on Läkerol´s price in culture 1988:
"Spinoza´s apprehension of time, as a fixed image in the unchangeable eternity, is to me a good starting-point for trying to seize the opportunity."

Curt Asker
---
Biography
Curt Asker lived and worked in Lacoste (France), Paris (France) and Brantevik (Sweden).
1930
Born in Stockholm, Sweden.
1950-1955
Studied at The Royal University College of Fine Arts, Stockholm, Sweden
1988
Prince Eugen Medal, Sweden
Läkerol´s price in culture
1981
Member of the Royal Academy of Fine Arts, Sweden.
---
Selected Solo Exhibitions
2020
Prints in limited edition, Galleri CH, Borrby, Sweden
2019
Konstakademien – The Academy of Fine Art, Stockholm, Sweden (presentation in Swedish)

2010
Kalmar Castle, Sweden
2009
Tomarps Kungsgård, Kvidinge, Sweden
2008
Galleri Inga Kondeyne, Berlin, Germany
Galerie Annie Lagier
2007
Enköping Art Hall – Presentation in Swedish
Galleri Olsson, Stockholm, Sweden
Galleri Kamras & Kamras, Vida Art Hall, Öland, Sweden
2006
Galleri Mariann Ahnlund, Umeå
Galerie Bernard Bouche, Paris, France
2005
Kabusa Art Hall, Sweden
Tjörnedalagården, Baskemölla, Sweden
Centre d´Art Plastique, Saint Fons, France
2003
Art Fair Fiac, Paris – Galleri Bouche, France
Galleri Astley, Sweden
Galleri Oijens, Gothenburg, Sweden
Ahlbergshallen, Östersund, Sweden
Galerie Annie Lagier, Isle sur la Sorgue together with René Guiffret
2002
Galleri Inga Kondeyne, Berlin, Germany
Centre d´Art Plastique, Istre, France
The East Gallery, Konstakademien – The Academy of Fine Art, Stockholm, Sweden
Tomarps Kungsgård, Kvidinge, Sweden
2000
Galerie Moussion, Paris, France
Musée de Digne, France
Barbacka Konsthall, Kristianstad, Sweden
Galleri Lindqvist, Bromölla, Sweden
1998
Galleri Astley, Uttersberg, Sweden
Galleri Olsson, Stockholm, Sweden
1996, 1994
Galerie Moussion, Paris, France
1993
Galleri Olsson, Stockholm, Sweden
1987
Thielska galleriet, Stockholm, Sweden
1984
Biennial in Venice, Italy
1982
Centre Culturel Suédois, Paris, France
Galleri Olsson, Stockholm, Sweden
1981
Galerie Blanche, Stockholm, Sweden
1978
Konstnärsbolaget, Stockholm, Sweden
1973, 1962
Galerie Blanche, Stockholm, Sweden
---
Selected Group Exhibitions
2017
"Lucrezio nell ´Arte contemporanea", The university in Bologna, Italien
The exhibition "Svenska konstnärer i Paris" (Swedish artists in Provence), in connection with the presentation of the book of the same name by Ingrid Wikholm Villa Ingeborg, Cagnes sur mer
2014
Curt Asker has been awarded Sandberg's Watercolor Prize and therefore participates in the exhibition "The Academy of Fine Arts´ Awards and Rewards 2014", Stockholm, Sweden
Galleri Thomas Wallner, Simris, Sweden
2011
Galleri Gunnar Olsson, Stockholm, Sweden
"c/o Ulf Linde" Artworks 1977-1982 by Kjell Anderson, Curt Asker, Harald Lyth, Lennart Rodhe and Tommy Östmar
2010
Thielska galleriet, Stockholm
2008
The Academy of Fine Art – Konstakademien, Tengbomhallen, Sweden
2007
"Swedish Graphics", Beijing, China
2005
Galerie Bouche, Art Fair in Bologna, Italy
2001
"Northern Lights", Vero Beach, Florida, USA
Musée de Digne, France
Drawing exhibition in Haarlem, Netherlands
1999
"Gathering Light" (The Museum of Modern Arts´ International Program), traveling exhibition to art halls in, Australia
1998
"Gathering Light ", traveling exhibition to museums in Sweden, under the direction of national exhibitions, Sweden
1997
"Mistero della prezensa", Spoleto, Italy
1992
"Zero Gravity", MOMA, New York, USA
1990
"Thirteen Contemporary", Waldemarsudde, Stockholm, Sweden
1986
"Swedish Artists", Budapest, Hungary
---
Selected Public Collections
Moderna Museet – Modern Art Museum, Stockholm, Sweden
Gothenburg Museum of Art, Sweden
Malmö Museum of Art, Sweden
Musée Réattu, Arles, France
Musée Gassendi, Digne, France
Musée Réattu, Arles, France
Bildmuseet, Umeå, Sweden
Private collections in Europe and the USA