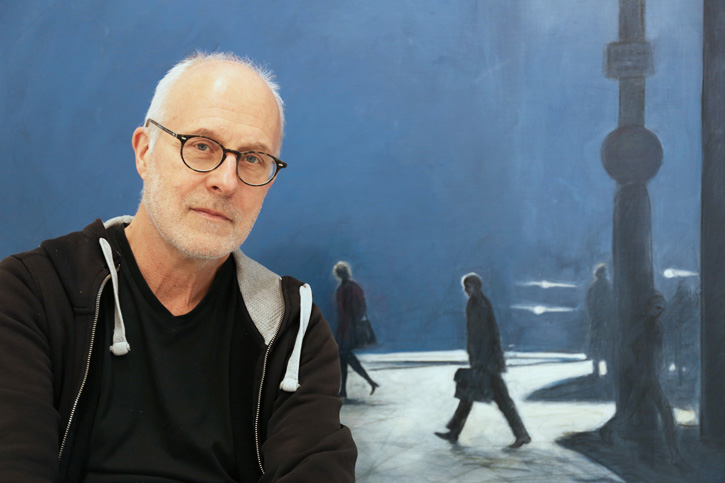 "Mikael Kihlman is a very diligent artist.
He knows that the light must be visible.
Or not visible.
But it has to be there.

The light is always present in Mikael Kihlman´s images. Whether we realize it or not. And that goes for both copper graphics, lithography, and oil. Not least in his copper artwork. You will find the light also in his night images. The sky is not completely pitch-black. A faint dusk light can be reflected in the shiny, worn, slightly crooked tram tracks in the street or reflected on a pair of car-roofs. The extremely faint light in the picture tells us more about the street, the atmosphere and the artist's eye and mind, than a fully enlightened veduta picture in full sunshine would do.

In Mikael's daylight images, there is a new dimension of light: the water. The water in rainsoaked roads, in puddles in the street. The water reflects and explains. The water also provides relief, not just a mirror image. Water speaks of life. Water is hope.

It is thanks to that light that Mikael Kihlman´s images tell that little extra to us. That may apply to the low light in his drypoints, the narrow streets where the sky is not even visible, a comforting empty sky in a shattered window of a raped city, frost feeling of a wintry birch or fumes along Venice's narrow waterways. The light tells us stories – and we listen gratefully.

The importat part of the light in Mikael´s works is coming from outside or from some hidden source. The people we see, whether they are near or far away from the observer in the picture, we experience more or less as silhouettes. They are no portraits in the normal sense. But these silhouettes are constantly involved in Mikael's portrayal of a city, a street, a story. Or one of history. They are important, even if they are anonymous. We may never know for instance who the man with the backpack is. Or where he is headed. But he is still one of those who give us the image of an entire village or urban population. We do not see them all, but we see them through Mikael Kihlman´s own narrative about them, their village or town. And we can hear them speak through Mikael's all forwarded messages, greetings, whispers, impressions. We try to interpret these characters in the picture. Sometimes we succeed, sometimes our imaginations take over the interpretations. And over our head, in the streets, threads weave intricate designs. Sometimes like messages from a musical score, a completely natural thing for the musically talented Mikael. We, no more tone-deaf viewers, may try to interpret the score the best we can. A guaranteed exciting experience.

Karl Haskel
cultural journalist
---
Biography
Born 1953 in Uppsala, Sweden. Lives in Stockholm.
---
Selected Solo Exhibitions since 2012
2021
Vens Kulturhus together with Örjan Wikström.
2020
NP33, Norrköping, Sweden
Flaménska Galleriet, Borås, Sweden
2019
Galleri Blå, Linköping+Linköpings Print Society, Lithography-edition – Release, Sweden
2018
Konst i Karlstad, Karlstad, Sweden
2016
Stadspassager, Husby Konsthall, Stockholm (presentation in Swedish)
2015
Gallery Neon, The Eugeniusz Geppert Academy of Art and Design, Wroclaw, Poland
Museum of Architecture, Wroclaw, Poland
Spot81, Sydney, Australia
Nan Giese Gallery, Charles Darwin University, Darwin, Australia
2014
Kunstverket, Oslo, Norway
Dalarnas Museum, Falun, Sweden
Gallery Genesis, Athens, Greece
2013
Swedish Printmakers Association, Stockholm, Sweden
2012
Manière Noire, Berlin, Germany
Galleria G, Taidegraafikot/Finlands konstgrafiker, Helsinki, Finland
---
Selected Group Exhibitions since 2014
2021
Prism Print International, "Conspectus", Krakow, Poland
Galleri Himmelblau, Tammerfors, Finland
2020
Grafiktriennal XVI – Nordic Contemporary Print Triennial, NP33 Norrköping, Sweden
Trelleborgs Museum, Sweden
Kulturens Hus, Luleå, Sweden
2019
Prism Print International, INOAC Namikido Gallery, Tokyo, Japan
2018
Mezzot´India, Bihar Museum, Patna, India (invited artist)
Prism Print International,"Prism: Khoros", Clifford Change Gallery, London, UK
Prism Print International & Belfast Print Workshop, Oriel Gallery, Antrim Castle, Northern Ireland
2016
"La Gravure Suédoise", Pointe & Burin, Foundation Taylor, Paris, France (invité d´honneur)
Yurinkan in Kiryu City Art Biennale 2016, Kiryu, Japan (invited artist)
2014
The Queen Sonja Print Award, Norske Grafikere, Oslo, Norway (nominated)
Grafiktriennal XV 2014, Uppsala Konstmuseum, Uppsala, Sweden
The Queen Sonja Print Award, Waldemarsudde, Stockholm, Sweden
---
A Selection of Awards and Prizes
2018
Special Award (for remarkable contribution in graphic art) 9th International Triennial of Graphic Art Bitola, R. Macedonia
2016
The Scholarship Foundation for Studies of Japanese Society
2012
Swedish Cultural Foundation, Finland
IASPIS – The Swedish Arts Grants Comitee´s international program for visual artists
2009
Nils G. Stenqvist Memorial Fund, Honorary scholarship
2005
3d prize, 13th Internatinal Print Biennial, Varna, Bulgaria
Award of Merit. 14th International Print and Drawing Exhibition. Miami. Florida. U.S.A.
2004
Grand Prix, X Small Graphics Exhibition, Nis 2003, Nis, Serbia
Erik Wessel-Fougstedts Scholarship, Swedish Printmakers Association, Stockholm
"Best print in Show", 99th Annual Summer Exhibition, Bath Society of Artists, Bath, UK
2003
Bronze Medal, International Print Biennial Beijing, China
Karlskoga-Nobel Art Award, Karlskoga, Sweden
2002
Sponsors Prize, Montreal International Miniature Print Biennial, Canada
Prize of the Jury, 2a Muestra Internacional de Miniprint en Rosario 2002, Argentina
2001
Equal Prize, Ostrow Wielkopolski, Poland
Honorary mention. International Mini-Print Biennial, Cluj, Romania
2000
Honorary mention, VI Bienal Internacional de Grabado Caixanova, Spain
1999
Distinction medal, Ostrow Wielkopolski, Poland
Honorary mention. International Mini-Print Biennial, Cluj, Romania
Honorary Prize, 3rd Egyptian International Print Triennale, Kairo, Egypt
1997
Grand Prix Uzice, Serbia
1996
Sponsors Prize, Sapporo, Japan
1995
1st Prize, Sophia, Bulgaria
1994
Grand Prix Toronto, Canada
1989, 1990, 1994, 1999/2000, 2007/2008
Swedish Art Grants Committee, working grant
---
Honors
2015
Doctor Honoris Causa, The Eugeniusz Geppert Academy of Art and Design, Wroclaw, Poland
2012
Krzyzem Kawalerskim Orderu Zaslugi Rzeczypospolitej Polskiej (Knight´s Cross of merit of the Republic of Poland)
---
Selected Public Collections
Swedish State Art Council
British Museum, UK
Moderna Museet, Stockholm, Sweden
Nationalmuseum, Stockholm, Sweden
Malmö, Norrköping, Vetlanda, Borås, and Värmlands Museum
County Council, Municipalities and Cultural Committees in Sweden
Finnish State Art Deposit Collection
Charles Darwin University Collection, Darwin, Australia
International Triennial and Biennial Collections in Poland, Japan, Romania, Bulgaria, Hungary, Canada, U.S.A. etc.
---
The content of this biography is updated on behalf of the artist.